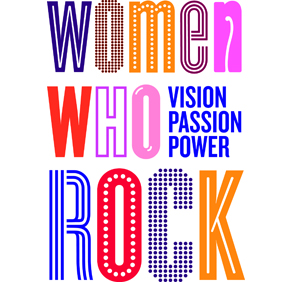 What an awesome evening.
Wednesday night, BFF Kay and I went to the Rock and Roll Hall of Fame for the world premiere of Women Who Rock, a PBS documentary chronicling the influence of women rockers from the pre-Delta blues juke-joint days to the present. Excellent montage. The show coincides in great part with the exhibit at the Rock Hall, dealing with the same subject. After the presentation, we got exclusive, after-hours access to the exhibit, which features the actual boots Michelle Phillips wore in the Ms & Ps bathtub album cover, Aretha Franklin's 1981 appointment book, Mother Maybelle Carter's guitar, Madonna's hand-written notes and lyrics, and hundreds of other items. So incredibly interesting.
The docu premieres tonight, Friday, 18 November on PBS, and it's worth watching. Possibly the most amazing fact about the 52-minute show is how they narrowed down the choices (there are no Canadian, European or Latina women in the movie), but time prohibits me this morning. The two filmmakers were there for the premiere Wednesday, and held a very informative panel discussion and Q & A session, along with the CEO of PBS. So interesting and fun. We both loved it. And yes, I was a total dork and bought a coffee mug from the gift shop.
But of course, the best part was spending some much-needed time with Kay. Starting at around 4:15 when I arrived, through dinner at Macaroni Grill, to finally getting back to her house around 11 p.m., it was the longest we'd spent together in, sadly, many months. Can't have that.
On the Rat-O-Meter scale of five cheeses, I give Women Who Rock:
So today is Finkday, and all secondary music teachers are thinking about the big push awaiting them after Thanksgiving. Yippy. And away we go…enjoy your weekend!