Because I know my fiend Stoney will love it.
I will resist the temptation to post certain photographs of certain people, brought to mind by the word "clown." That wouldn't be nice, or ladylike. It would be like, I dunno, calling Lil Kim a tramp.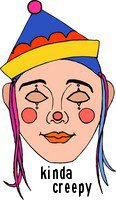 I read a funny/snarky political blog this morning on the LA Times site. In it was a picture of Massachusetts senator John Kerry with this character that got me thinking about clowns again. (This particular part of the post was poking fun at the clown, not Kerry.)
There must be a secret history of clowns that I don't know. Hmmm. Well now, back after ten minutes. It seems there is quite the storied … um… story. To save you from researching this yourself, I will deposit all the pertinent information you might require directly into this space, because I heart you and I want to be your personal philomath.
According to clown-ministry.com, you got your three basic types of clown:
While they have varying origins, it is assumed that the whiteface clown is the oldest, descended from the medieval court jester. Interesting aside: while court jesters probably did not wear white makeup, later clowns (variations on actors of the day) did so in order to illuminate their faces in poorly-lit performance halls.
But I still wonder — why are clowns considered funny? And to whom? Certainly not to me. And I don't know about you, but these guys don't strike me as people I'd want my children following around. An "Army of Clowns?" No thanks. They all look like they just got off the chain gang. (Sorry, I know — stereotype. Sue me.)
Just sayin'.
FO (loving those 2-hour fog delays)