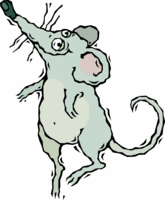 Random Neuron Firing's
It is both wonderful and weird to have a weekend "off." I am a tired-but-happy rat indeed. It always feels this way after a show closes.
Therefore, it's a lazy Saturday (at least during my "quiet time" in the early morning), which means I indulge myself in the geeky, guilty pleasure of research just for the heck, and random neuron firing's. Life is good.
Did you know…
Forty years ago, we sent people to walk on the moon. But it took scientist's until yesterday to find out why bleach kill's germs.
I just happened to watch Britney Spears's new "Womanizer" video. Dear God. It's been a long, long time since I watched a music video. Had to crank my jaw shut. (I just deleted a honking huge rant from this space. I'll save it for another time.) Strangely, after it finished, a Flash ad for the new Punisher movie appeared. It read: The corrupt will be punished. Heh. Actually, I was more offended by Brit's android voice (an annoyingly overused effect that needs to die), and a range way too low. She will *never* be able to pull that off in live performance without mega-help. But hey, that's just me with an opinion; nothing to see here, folks. Move along.
The best part about the video was the comment's beneath it. Apparently, a guy posted a negative opinion about the song, and he was lambasted by other readers. His response:
Ok people, let's come to an agreement. I promise to plead guilty as charged to being a loser with a very bad taste in music. I'll accept that! I only ask that, when describing me, you use "you're" instead of "your". Please…I'm begging you, if you want to make a plausible argument (for anything) I ask only that you make it intelligible. In short, let's at least sound smart. Thanks.
I don't care if he does have lousy taste in music. I like him, even though his punctuation was outside the quote.
This is my one and only attempt at original art. Now you know why I am a musician. But I want this blown up poster-size so I can sell it and pay off my school loans. Ok, I know. Don't get your hope's up, right?
If any of my intentional mistakes in this post bothered you — welcome to my world. You know my suffering. If they didn't bother you, or if (God forbid) you didn't even notice them, then it's time for you to go to school.
Happy Saturday. Heh.
PS an hour later — I was cleaning off my desk and found a receipt from a package the Thriller mailed for me the other day. At the bottom, it reads, "Tell us about your recent postal experience." Well now…