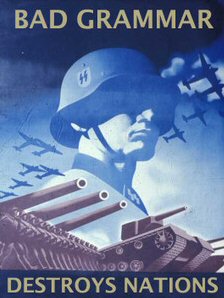 I think it bears repeating. Whatever the reasons (internet shorthand habits, fewer spelling and usage tests after elementary school resulting in less attention paid to grammar, general apathy, overwhelmed teachers trying to keep up with NCLB, standardized testing that's anything but standard), Americans continue to butcher their language.
Sometimes I want to give up the fight. Yesterday, three of my middle school students used the word "brung." Cripes.
I've been told I'm too picky about grammar, that nobody cares anyway, and that my grammar peeves are probably outdated. For instance, I insist on saying "thee end" instead of "thuh end." I hate the question, "Where is it AT?"
[I will say that I have loosened up a bit in my advancing age. Thirty-five years ago, I would have never begun a sentence with "and" or "but," or written in a style that incorporates the occasional sentence fragment. I do both all the time now. But I digress. And I am good at digression.]
I hate it that some of my students think their poor spelling skills are funny, and that they have no trouble at all saying with a smile, "I can't write" — followed by a shoulder shrug.
Or they say, "Hey, we're from (insert small Ohio community here)," as if to say (sing), "Folks're dumb where I come from — they ain't had any learnin'…"
It makes me sad. And the problem is not limited to the nation's youth; it knows no age, social class, or (unfortunately) level of education. Years ago, I worked as a secretary to a university official. I would secretly correct his horrible grammar and countless spelling errors as I typed his correspondence. I had a high school education; he had two graduate degrees. Go figure.
Still, I am compelled to do my part — however inconsequential — to promote safe and healthy written and oral communication in my little corner of the world. I shall press on.
Fink out.
PS – Wahoo!!!