Last night I was cleaning out some files on the server for my school website (I am the web drone for my district) and ran across a unit I'd done for my music history class on the crucial influence of the Delta blues artists on the pioneers of rock and roll, jazz, R & B and soul. Where's the Delta, you ask? And what are "Delta blues?" It all started where the Southern crosses the Dawg.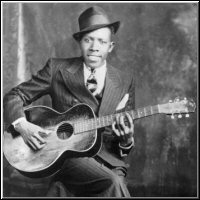 It's surprising to me how few rock and roll musicians nowadays know who Robert Johnson was; even fewer know of his legacy to the art form, and therefore, the debt of gratitude they owe him (and others). If you are a rocker and you don't know what I'm talking about, you've come to the right place.
In the history of the blues, no one artist is more shrouded in myth and shadows than Robert Johnson. Eric Clapton called Johnson "the most important blues musician who ever lived," even though all that remains of Johnson's entire existence is 29 tracks he recorded in 1937, and the two photographs you see on this page. That's it.
He had a sound, a playing technique, and an overall style that was different from any other musician on the minstrel-type juke joint circuit that black musicians played in the early decades of the 20th century. He was a drifter; he confided in no one, and had few friends. He married twice, but had no children with the women. [However, he did have a son with someone else — and Claud Johnson was awarded Robert's estate in 2000.]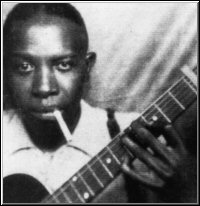 He had an uncanny ability on the guitar (check out the freakishly long fingers). The legend says it was at an abandoned crossroads on legendary Highway 61 that Robert sold his soul to the Devil in order to be able to play the way he did. In fact, Robert wrote a song called "Cross Road Blues" (audio clip here), and 30-some years later, Clapton covered it in his version, called, simply, "Crossroads."
Many modern artists have covered Johnson's songs (Led Zeppelin, the Allman Brothers, John Fogerty, Clapton, Bob Dylan, to name just a few). But more important was Johnson's influence on the very beginnings of rock and roll. Chuck Berry — before he was singing about Johnny B. Goode and No Particular Place to Go — was a blues artist, recording on the old Chess Records label. People like Muddy Waters, Howlin' Wolf, and Son House (who actually knew Johnson and played gigs with him) paved the way for what we now know as blues and gospel, and indeed all the offshoots of those styles: rock and roll, soul, hip-hop, rap, etc. All of them were in some way influenced by Robert Johnson.
Nobody really knows exactly how Robert died. His death certificate listed the cause as "no doctor." Some say it was poisoned whiskey (Robert was good at making women's husbands insanely jealous), others say it was syphilis.
By today's standards, Johnson's high, reedy voice and singular guitar accompaniment would sound strange. But I submit that without his contribution and influence, people like B.B. King, Eric Clapton, Keb' Mo' and Stevie Ray Vaughan would have sounded awfully different…if they'd even picked up guitars at all.
Fink out.