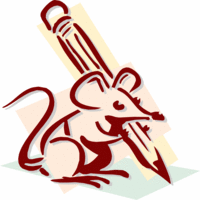 According to the Fink:
Write with economy.
Strive for clarity.
Fuh cripesake, stay away from colloquialisms and idioms in formal writing, because people who do that are a dime a dozen. Write your research paper as if you're composing a textbook for a class; as if it's fact.
Keep restatement to a minimum. Be careful to not say the same thing twice in as many sentences.
Read your final work out loud to make sure you you haven't made any careless errors.
Keep in mind that your professor is on the lookout for research papers whose prose is deliberately bloated so as to satisfy the minimum word requirement, or to make it seem as if 60 words are necessary to state what could normally, on any other day, be said in three.  (See Rule #1.)
Don't use contractions in formal writing; you'll be penalized for it.
To many people depend on spell checkers that do not detect grammatical errors. If you are unsure about "to" and "too," ask someone who knows.
Can you tell I'm starting to proofread student work?
There are lots of talented and smart students at my school who get a great English and writing education, but who also forget some of the more intricate rules. (The simple ones, too, sometimes.) I also need to follow my own advice, because, as you know, I tend to lean towards the verbose at times, as well as the occasional, comma-infested run-on sentence that, by the time the reader finishes, has lost all continuity, meaning, importance and syntax. And I chop off sentences.
Happy Tunesday