…while I kiss this guy.
I don't know why that song's on my mind this morning (wrong lyrics and all), but I've been up since 5:30 and I'm off to the races; no purple haze here. Clarity, decisiveness, ambition, will, focus…I got 'em all in spades this morning. I'm on a mission.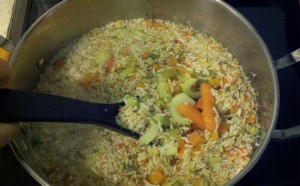 I scoured the pantry, fridge and freezer early this morning and found stuff to make some yummy veggies and rice soup. After the delicious junk food I made (and ate) over the holidays, I need a detox week. It starts today.
So is everyone (outside the educational community) back to work, or to a regular routine at home? What was the best thing about your Christmas or Hanukkah? Ready, steady, tell. I'm sure it will involve family, as the holidays are often the only time *everyone* gets together. It's what our lives have become in the age of aeroplanes and automobiles. Even so, it makes those get-togethers all the more special, ja?
I'm going to try something weird today, and just let the day unfold without making any plans to take care of stuff. (Except I must call the Js' mommy to schedule some play time so she can have a quiet afternoon this week.) I hope your week is shaping up well — time to get your affairs in order, because the new year is upon us, and you know what they say about 2012…

Mmmm. That soup is smelling yummy. Breakfast is served.