So here it is, 3:30 a.m., and I've been up since I opened my eyes at 1:40. I blame the birthday cake.
Yesterday was the Thriller's big day, and we had a small gathering to celebrate; kind of an "open house" deal, in an effort to make it convenient for the kids and their families to just come over when they could.
I didn't plan anything for dinner, figuring that we could just make a sandwich or something at 6:00, when everyone left. Well….turns out that dinner was cake. And cake, and more cake. While this photo is an exaggeration, by the time I went to bed last night, I felt like the four pieces I'd eaten between 4:30 and 6:30 were all that size.
Cake wasted. Oh, and don't forget the half piece before bed, with a small cup of milk, of all things (I rarely drink the stuff, and even this was the lactose-free kind). I think that was the deal-breaker.
Unfortunately for me, I can't do the "bedtime snack" routine. It interferes with my already-shaky sleeping patterns, and I end up wide awake with indigestion at 2 a.m. Last night was no exception; only this time, a nightmare came along for the ride:
I was standing in my high school parking lot, having just got back from teaching middle school choir (strange, because I don't travel for my job; the kids all come to me from the building next door). I was baffled because even though I'd just arrived, somehow I couldn't find my car. Dude…
So I did the beep-beep thing on the key fob, trying to locate it. Every car in the parking lot responded — except mine. I remember pointing my keychain at a motorcycle, and it kept beep-beep responding to me. I tried to tell a group of students that "this motorcycle has stolen the code to my car," but they acted like they didn't hear me. Panic scratched at the back of my brain.
Switch to the teacher lounge at the high school, which in reality is the size of a small bedroom, but somehow today held the entire faculty — most of whom I didn't know. I retold my tale but no one listened, except a guy who is a principal in another district, and even he was more interested in my Browns season tickets than my plight. (Like I'd sell 'em if I had 'em.)
Suddenly, I was out searching the parking lot again, when, to my horror, I realized I'd blown off middle school choir (which supposedly I had already taught, right?), and now, on top of losing my car, I was going to lose my job.
*bing*
I came to and looked at the clock: 1:39. The ooky feeling in my gut told me why I was floating around in dreamland. Indigestion was keeping me semi-awake, or at least not deeply asleep. Drat that birthday cake.
Shouldn't-a done that.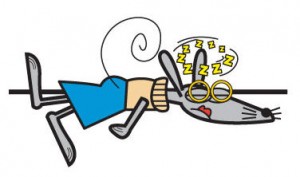 So now I'm up for the day, as it's 4:15 and there's really no point in attempting a do-over, even though the Pepto is starting to work. Meh…serves me right. I rarely eat high-sugar/high-fat stuff in any great amount, so it shouldn't surprise me at all that I'd be affected by making a meal (or three) out of it, all in one afternoon.
Rat Fink, Rat Fink. What a donkey. *yawn*