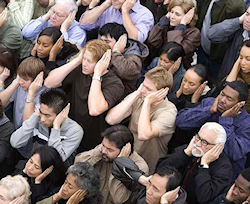 Yesterday, while listening to Sirius Radio's "70s on 7" channel in the car, I heard what I think might be one of the worst pop songs ever: "Deanie" by Shaun Cassidy. No joke. Melody went all over the place, cloying lyrics…Lawd.
So, help me add to the list here. What are the absolute worst pop songs you've ever heard? Here are the rules:
The songs on your list can be rotten for any reason (ugly melody, stupid lyrics, annoying singer, etc.)
Let's not include songs that you originally liked, but were played to the point of you wanting to shoot yourself. Like, say, "Don't Worry, Be Happy," for instance. I liked it when it first aired, but after the millionth time…
Stick to hits. For instance, "Friday" by Rebecca Black is a really bad song, but it didn't hit the Top 40 charts. It was more of a meme than a song, actually.
So here we go.  Ready, steady, list!
Worst Pop Hits of All Time
(In No Particular Order)
Lady Lady Lay – Bob Dylan <–in the top five of my list of Most Overrated Artists Ever (but that's another post)
Burnin' Love – Elvis Presley ("a hunk-a hunk-a"…really?)
Little Willy – The Sweet
Havin' My Baby – Paul Anka
Babe – Styx (please, please, PLEASE, fuh cripesake, transpose it down a minor third)
Playground in My Mind – Clint Holmes (look it up, seriously)
Dance Hall Days – Wang Chung
Lean On Me – Club Nouveau (not because of the song, but because the singers and producer hadn't a righteous clue what "that's a quarter-step sharp" means)
Safety Dance – Men Without Hats
Sweet Child of Mine – Guns 'N Roses
Escape (The Pina Colada Song) – Rupert Holmes
Seasons in the Sun – Terry Jacks
I Would Do Anything For Love – Meatloaf (sorry, he's just bad)
Time Passages – Al Stewart
Mmm, Mmm, Mmm, Mmm – Crash Test Dummies (yes, boys, you sound like James Hetfield, now go away)
If I Could Turn Back Time – Cher
Chirpy Chirpy Cheep Cheep – Middle of the Road (I am not making this up)
It's a Heartache – Bonnie Tyler
Truthfully, I could list hundreds. But I don't want to spoil anyone else's fun.
Gofrit!