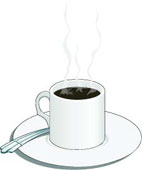 So, six days in, how are your New Years Resolutions going? I must tell you I'm not altogether disappointed with my dissociation with the morning coffee routine. You should have seen the look of shock on Jake's face (Jake my 18-year-old student, not my grandson) when I revealed to the high school choir in conversation yesterday that I had pretty much given up coffee. By the time my students are seniors, they've seen me with quite a few coffee mugs in my hand and sitting on the keyboard in my classroom.
And the cool thing about this rezzy is that it's not prohibitive. I'm not "giving up" coffee. I'm just giving up having it be the first thought on my mind when I get up in the morning. I'll still spend the lovely Starbucks gift card that BFF Kay and Bob got me for Christmas. I'll still meet RD when he's in town so we can solve the problems of the world over a latte. I'll still have a cluck with Mavis over coffee while we're cooking. When I meet Bando or Meg at Panera, I'll drink a joe. And I will definitely tear into that bag of vanilla Dunkin' Donuts brew that Justin and Jakey got Grammie for Christmas.
It's just not the boss of me anymore.
Do you ever think about an item or activity and say, "I wish I didn't have to do this." It's a slippery slope…the "having to" versus the "choosing to." That's what morning coffee was to me, and now I'm choosing to stop depending on it. My massive cut-down on eating stuff with processed flour & sugar is going pretty well, too. What's up with this following-through business? Perhaps I have a fever…
Maybe I'll go make some coffee.