What a fun day we had yesterday, in spite of being decidedly unimpressed by a couple of things.
We started the day with Mount Rushmore. It's somewhere you simply must go before you die. If I took you through all the neat history surrounding this monument, I'd miss checkout at the lodge this morning. (Still trying to get used to Mountain Time, ugh.)
Some zoomy pictures from my Casio camera turned out OK, although I miss having Paint Shop Pro on this machine so I could adjust out some of the blue cast from the sky and stone. Why am I not using the fabulous camera that came with my Droid X, you ask? Because it DIED, that's why. It waited until I needed it the most, and it took the ultimate poo. Mama is not happy. So that's why I've not been posting many photos to Facebook. I have to take the SD card out of my Casio, get out the Thriller's laptop (because the SD card reader on my netbook doesn't work, either — nice, eh?), and plug in the adaptors in the car, yadda yadda. Too much hassle. So I just wait until we're in the hotel room. Anyway……………………….the Mountain Dudes: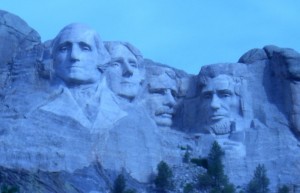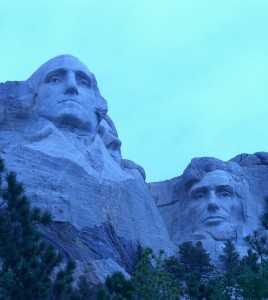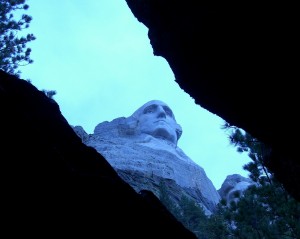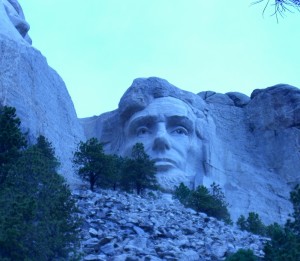 Such beauty, and surrounded by a hundred thousand Ponderosa pines…breathtaking. We loved it. Now, Deadwood, however…
Ick. Dirty, overused, tired-looking. The "gambling halls" were silent as tombs. No one was there. I didn't even take any pictures. It was the first major disappointment of the voyage. But that's OK — we can say we saw it, and the hour drive there and back to Keystone was gorgeous.
So we're off to Devil's Tower and Little Bighorn today. Staying the night in Montana — another "first" for both of us. Looking forward to it!
Hugz to you, my fiends. Hope all is well.
FO