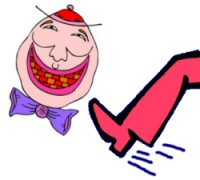 Neck – stop hurting!
Tribe – stop losing!
Girls – stop being mean!
Humidity and temps – stop rising! I have a gig tomorrow afternoon in an un-air-conditioned high school gym!
Body – stop makin me mad!
Tempus – stop fugiting!
Brain – stop overthinking!
School district – stop scheduling graduation over Memorial Day weekend!
OK, had to get that overwith. You'd think that since school is done (all that remains is my contract day on Tuesday) and the Js are coming over tomorrow night, I'd be happy. Well, I am. Time for an attitude adjustment, but it's fun to get all yer digs in before you turn the corner, ja? Lots of good things coming down the pike this summer, so let's have at it.
That is all. I need some fruit.
FO