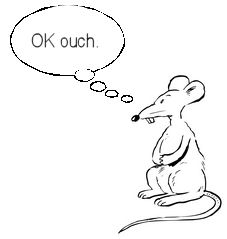 A rat wearing a sling walks into a bar and announces, I'm lookin' for the man who shot my paw.

I wish I could find the guy who pushed me out of my left shoe yesterday. The Thriller and I were walking up to order our lunch, when *bam*, my left foot rolled outward inside my 2.5-inch high wedge shoe, and down I went. Forward. On the floor, in front of all and sundry. I mean, I landed on my chest, with my face centimeters from the floor. It was the ultimate humiliation. (Well, actually, the ultimate humiliation would have been if I'd been wearing a dress. Thankfully, I was in jeans and a winter coat.)
Oh, the indignity.
Now, from neck to toes, I suffer. Be careful next time, nutter.
*creeeeak*