[in best Sally Field voice] You like me…you really like me.

Kidding. Well, actually, I hope you like me…but we won't get into that again.
I enjoyed looking at the survey results. Of the twelve responses I got over the last 24 hours, here's how it shakes out: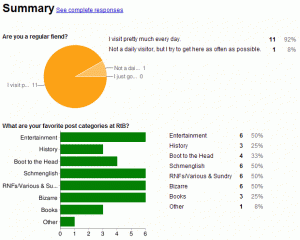 For a long time, Schmenglish was the leading category. Amazing…gotta do me a Schmenglish post right quick here. And I also noticed that fewer liked the history lectures. Hehe. OK, I hear ya.
Regarding suggested categories to add at RtB, you said "Musical Inspirations," "Things I'll Never Understand," and "Tech Help for Lamers." HAA (Guess who suggested the last one??) Great ideas, and you will see those in the future. Needed me some fresh ingredients to work with around here.
I'm also considering a guest blogger to come in every once't in awhile. Any takers to author a post now and then? If not, no problem; I'll just do what I do in choir. If you don't volunteer to sing this passage, I'll just call on you to do it.
I love me.
There was also a suggestion to include more pictures. I will do that this day — although I doubt the respondent meant "Show us more photos of the grandkids!" But hey, he/she probably knew that wouldn't matter. If you see a grammie with a camera, just git out the way.
Speakina…Jake's Grandma Jane (Hannah's mom) sent me a fabulous photo in email last night. Jake got caught in the act of playing Big Boy in his uncle's boots. Priceless…
And in other news…the Thriller gave Rousseau his monthly humility training yesterday: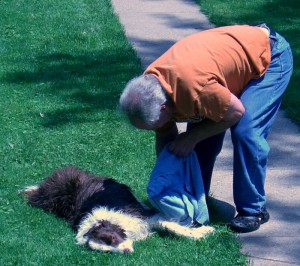 And I am off to give a piano lesson and get some choir tour stuff done today. No, really. I'm working today. Right now. Bye. I'm going.
Finkus outus.