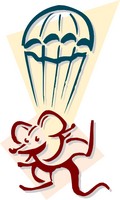 Know what? I think I'm going to take Suz's advice and take the day off. I shouldn't. But I'm going to. I still haven't watched Mad Men from last Sunday.
To all those involved with Bye Bye Birdie, from cast to crew to orchestra (yay!) to my fellow directors — a huge thank-you! It was great. Despite all the illnesses and other roadblocks too numerous to mention, the kids did it again. A fine show.
I awoke this morning (late — almost 7:15!) to find the customary post-show sickness setting in. I'll just live on DayQuil/NyQuil for the next few days, and all will be well. Now to get this thesis done so I can go back to being Grammie…
But first: coffee and Mad Men and a holiday. Life is good (and quiet). Well done, cast. Next year: 42nd St.
Fink (chilling) out