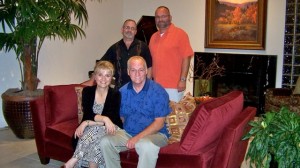 Our off-66 detour couldn't have been more enjoyable last night. We arrived at BoomR and BluVox's gorgeous home in North Dallas, at which time they treated us to a positively magnificent dinner at Chamberlain's Steak and Chop House. It was a religious experience — and I'm still bloated. I was a member of the Clean Plate Club fo sho. A big piece of crusty bread, a Caesar salad, a medium-rare filet mignon, garlic mashed potatoes, and several sample bites from this —
~
— all gone, down the hatch, into the gullet.
The food was matched only by the company and the conversation. I love these guys! We all had a great time and a ton of laughs, and I'm looking forward to when BoomR comes to visit me in September.
Now if I can drag myself to the shower and the car, we'll get on with this thing. I'm never eating again. I mean it. Fly me over the Super Bowl.
PiggyFink