There is just so much to show and tell, I know I won't be able to do it in one post (and not totally bore you in the process).
I will address LOVE in tomorrow's ramblings. Suffice to say I bawled through most of it, and the other parts were just magical. But more on that tomorrow.  Yesterday was nonstop, and I have great pictures to share!
I started out by fully intending to take the 8:28 a.m. city bus downtown, as the stop is just a one-block walk from my hotel. I got all gussied, headed out the door, and was immediately faced with a decision: Do I start walking down LVB in this suffocating 104-degree heat to wait for the next bus, or do I simply open the door of this waiting air-conditioned taxi, located mere feet from my person?
I'll let you guess which option I chose.

Founded in 1996 through a partnership between the Arts Council of Southern Nevada and the City of Las Vegas, the Neon Boneyard museum is a wonderful tribute to the golden era of Vegas (1940s-1970s, mostly). What a walk down Memory Lane it was for me to see super-up-close much of the signage I remember either seeing in person, or in movies as a kid.
They operate the place (located well away from the Strip, downtown) like a National Park, sort of. They have "rangers" stationed throughout the small space, ready to give quick facts about each sign, and to provide the much-needed service of posing as photographer.
One ranger told me that the Moulin Rouge, opened in 1955, was the first racially integrated casino in the United States. Initially, I had to ask her what the sign said, and she explained that for some reason, the letters were reassembled in the wrong order. I guess I should have asked why they didn't fix it…
Then there were the signs that I personally remembered from previous visits to Vegas: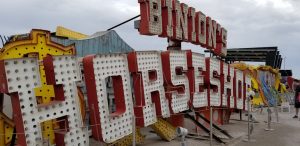 The only disappointment was they didn't have a remnant of the first Vegas hotel I ever stayed in: the Westward Ho. Bummer, because those rolling umbrella lights were iconic at the time; as recognizable as any other place on the Strip.
I have a ton more photos of the place, but you get the idea. Such a fun stroll — I told one of the rangers that now that they're reclaiming the Sahara identity for the SLS Hotel (where I'm staying), I hope they totally embrace the iconic signage and 1950s Rat Pack feel the place had. He agreed.
After all the feelgood nostalgia, it was time to see some grisly history. I learned a lot at the American Museum of Organized Crime, and next time you're in Vegas, it's a stop I think you should fit into your schedule.
Since I'm pressed for time this morning (today is casino day, and I'm off off off the Strip for that), I'll pass on a photo essay, but if there was ever any confusion about what a syndicate is with regard to criminal activity, this place clears it all up.
The exhibits cover gangster activity from Los Angeles to New York, Cleveland to Havana, and all places in between. The Prohibition exhibit is fascinating.
Although I said I wouldn't post an essay, I will post a couple pictures here that I found exceptionally interesting/disturbing, however:
Again, last night's Cirque experience was so amazing that for a while, I was without words. I'll fix that tomorrow.
Off to my final day in "Lost Wages." (eye roll) Hugs to all my fiends.