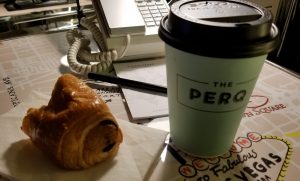 First things first: I arrived safely in this cute little oasis in the middle of the desert, where it's only 93 degrees at 6:30 a.m. But my room at the SLS (the former Sahara, and from what I was told, will be going back to Sahara after a huge renovation) is nice and cool, and the coffee's hot and the chocolate croissant was tasty.
But let me tell you about the "getting here" part.
I chose Spirit Airlines because:
I don't eat or drink on a domestic flight, so I like not having to pay for others wanting to (they charge you for everything from meals to water in order to keep costs down)
I don't need a phone charging station for a 4-hour flight
Since they're no-frills, the cost is super cheap, especially when combined into an Expedia airfare/hotel deal
They have the youngest fleet of all major US airlines
The seat pitch is fixed, which is OK, because I never recline my seat anyway, and the width is fine and cushioning totally acceptable
It was a direct flight from and back to Cleveland
And, as I discovered last night, every other weirdo like me in the universe also chose Spirit Airlines. To wit:
I looked at the seating chart in realtime three hours before my flight. Cool — no one sitting next to me, and about 30 empty seats left on the 182-passenger Airbus A320 . In those three hours, everyone in Cleveland who said, "Hey dangit…I think I'll go to Vegas tonight!" was on that plane. Not a single seat available. Ridic.
There was a guy three rows in front of me with a nervous tic. Every 30 seconds or so, he'd sniff really hard four times. Every. Thirty. Seconds. For four hours.
I was in seat 7A. Number 7C was occupied, and of course, one minute before they close the doors, Miss Twenty-Something I Just Woke Up 15 Minutes Ago stumbles in, wearing jogging shorts, flip-flops, and a hoodie, and there's only one space left: 7B. She immediately put her head down on the tray table and fell asleep. She also froze to death, poor thing. She tried to put her entire body inside that hoodie. Someone obviously forgot to tell her that airplanes are flying refrigerators. I had a t-shirt, sweater, jeans, socks, and shoes on, and I was still cold.
It was a nighttime flight that left Cleveland at 8:30. You'd think that as we got airborne and the crew turned off the cabin lights, that people would get the hint. Nothin' doin'.  Apparently, the group of bros in row 30 thought those of us in the front needed to hear about their "dude weekend" in Vegas. Oy.
The crew referred to the city as "Lost Wages" four times. *tWiTCh*
Seat 7A is right over the port side engine. Ever hear one of those buzzy branch cutters that resonate through the entire neighborhood, making sure everyone's awake at 7:30 on a Saturday morning? Yeah, that. I thought the entire wing was going to fall off. And me without my noise-canceling headphones, because I thought I wouldn't need them…
Instead of hailing a taxi (which would have cost me plenty, because my hotel is at the opposite end of the strip from the airport), I decided to book a shuttle. Malachai, our driver, was really nice, but he neeeevvvvveeerrrrrr stopppppped taaallllkkkinnnnngg for the entire 30-minute ride. Dude…it's 10 p.m. (1 a.m. for my bod) and I'm still not checked in. Please refrain from pointing out every cool strip act and cannabis dispensary on the Strip. I'm good.
OK, so the trip was weird, but once I got inside the SLS, everything was great. Quick check-in, nice people, fun free upgrade, and a good night's sleep.
Now I need to get out the door for today's little adventure in the 106-degree coolness. I'll report back tonight! Have fun, and stay outta the heat.