The Fink, with a Mac. HA
Bet some of you never thought you'd see the day. Actually, I must say that Macs have come a long way since the old days. I have to admit that this machine feels and acts a lot like a Windows computer. Right or wrong, that's how it feels to me. It's all good, though.
Now I have to get Boom Boom up here to do his mammoth Logic Studio training session (and believe me, it will be mammoth). Willie boy, there's a whole lotta chocolate and vino coming your way as gifts!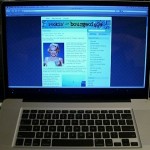 Still, I love me some XP at home (and I also got a new PC desktop at school), so you could say that I'm playin' for both teams. Heh.
Speaking of teams, the Tribe won one last night. I also got all the high school choir music ordered, survived a nasty hospital test (no worries, all is well), and got some other issues straightened out. Things're lookin' up, fiends. Things're lookin' up.
Off to play with Jake for the morning.
Fink out.