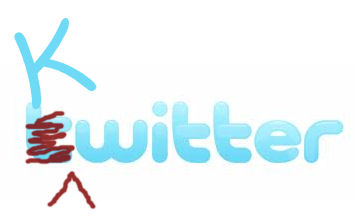 Yep, I'm going to take an extended break. I'm now Twitterless by choice (but not shutting down altogether, because I have the awesome @ name that many have asked for–but funny how I quote them the six-figure price for my giving it up, and I never hear from them again), and here's why:
Twitter is not designed for interaction. When you think about it, Twitter is basically a vehicle to say, "Look at me and what I'm doing/saying" in 140 characters or less. I know you could say the same about Facebook, but the comment sections (with their unlimited characters) make it more conducive to actual interaction. I like that, and I prefer it to mindless retweets of the same dang thing. Of course, people do interact on Twitter — but at 140 characters, I find it incredibly limiting. Not my style (as you can see, heh).

Twitter makes me mad.

 Why? Because I follow people like Diane Ravitch, who posts things that make me so mad I could kick a puppy. Why don't you "unfollow" her? you may ask. Well, because she addresses a subject I am very  much interested in. I like her article links, but…they just make me mad. I start out or finish my day wanting to hurt things, and that is not healthy.

Twitter makes it easy to be mean.

 I have seen otherwise wonderful, kind people post (and retweet with impunity) the most vile, horrible, mean-spirited vitriol, designed to hurt, humiliate, mock, and deride. I have trouble reconciling that paradox. How can people who profess to be Christians say such filthy, vicious things about others in an open forum? (On my Twitter feed, it's the president, parents and teachers who get the worst of it, in that order.)

Twitter invites pretentiousness.

 Again, you could say this about Facebook to an extent, but auto-tweeting for the 634th time about "I just finished Day Whatever of this workout or that bible verse or this daily epithet delivery service" — without ever once engaging in discussion about it on any level — drips with self-importance. To me. Not everyone has to agree with me, mind. That's why God made the comment section. And to those who check the option to "automatically post my tweets to Facebook" so we can all read your "yay me" post twice: well, I won't ask you to stop it, but I will tell you that it's annoying.

Twitter can facilitate big mistakes.

 Obviously, it's a public device, so what you say will be viewed by potentially hundreds of people. But it goes further, in that nothing is ever truly deleted. Again, Facebook is the same, but there's something about posting a rushed, poorly thought out, 140-character rant about how stupid everyone is that makes you look like the selfish, arrogant, unprincipled, entitled, lazy wanker that people undoubtedly think you are. And future employers (and friends, and folks who award scholarships, and *cringe* even the targets of the acrimony) could possibly see them. They can also be extremely costly.
This is not to say that Twitter doesn't have its value, or that Facebook is any better on some fronts, and there are exceptions, and you can't make blanket statements like that, blah, blah, whatever. It's to say that Twitter doesn't bring me joy right now. Kablam. Too much negativity, man. Harshin' my mellow. Don't like it.
Now I shall go ponder the question of whether or not my rehearsal for tonight will be canceled, as we have what I hope is the last of the snow days for the year. Trying to hold it together here…