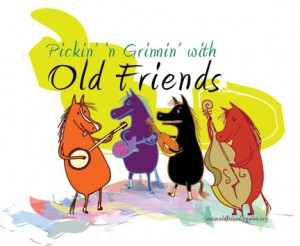 Sing it, Bette Midler. And a fabulous one is staying with us at the Fink house this very moment. Last night, most excellent fiend BoomR arrived and we spent the evening eating, laughing, catching up, and doing awesomely awesome geeky stuff like installing software and talking about what all I'll be able to do with Logic Studio and Band-in-a-Box. It is going to be absolutely ding-dong-daddy fantastic.
BoomR and I met back in the 80s. We've made a lot of music together. We won a contest, recorded an album, formed a band, rocked out, swung, and pretty much had a ball. He watched Seamus and Lars go from babies to pre-teenagers. We went through some bad times together, and were there for each other. Then situations pulled us apart geographically, and we lost touch. I really don't know how that happens; it just does, even to the best of friends. Fast-forward almost twenty years, and we reunited on email or Facebook — can't remember which. Anyway, it's like we were never apart. Have you experienced that with people in your life? It's indescribable.
So. Boom Boom and I are spending the day at my classroom, training in Logic Studio. Photographs will be provided. I've made the morning coffee, our lunch for today, and the chili for tonight's feast, and Mavis is doing her usual magic by getting everything ready by the time the family get here at 6. Thumbs up.
So enjoy your Saturn Day, my fiends. I know I will. Smell ya later.