I am proud this day.
After ten weeks of grueling classwork and road training, Seamus is now a certified heavy hauler. Wahoo! He is fully licensed to drive flatbed, box and tanker semi trucks. He will be working mostly with flatbed loads.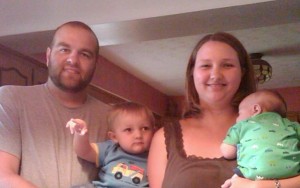 ~
Am I proud of this boy? Yep. After a career in retail sales that was fine, but not personally rewarding for him, he finally decided to go after his dream: driving for a living. He's loved it since his grandfather allowed him to drive a tractor around the farm when he was nine years old.
Now he's going to be the asphalt cowboy he's always wanted to be. How cool is that? How often does someone reach his goals in this world?
Last night, Hannah threw a surprise party for him. There were a dozen of us there, all proud as get-out. But few as proud as Mama Fink. And I'm looking forward to taking him up on his offer to go with him on a haul sometime.
Fink, eastbound and down, loaded up and truckin'…