Chief Wahoo, that is.

Could the Indians actually be for real this year? Too soon to tell. But man…I was in my room after school yesterday, having just met with my fiend Stoney. After she left, I turned on the TV to see if the game was over, and just as the picture came into view, I witnessed a walk-off, 3-run homer in the bottom of the 10th, by Yan Gomes. Wahoo!
I jumped around like a fool for about 5 seconds, then got down to the business of getting ready for the biggest concert of the year (spring, high school). I must say, they came through beautifully for their audience, and I hope people found something they liked.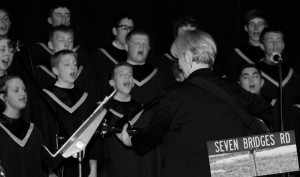 A friend posted this picture on Facebook — she's so talented with capturing stuff like this. We did "Seven Bridges Road," and I wasn't initially sure how it would be received (it wasn't one of the Eagles' megahits), but it ended up being an audience favorite, judging from the comments I heard after the concert. It sure was fun to play and sing. Always good to have my trusty rhythm section with me as well.
As usual, the audience was kind and the kids gave it all they had. A good performance. And I will have fond memories of the eleven graduating seniors we honored.
The rest of the week should be comparatively easy — Academic Awards ceremonies tonight, Fiddler auditions tomorrow night, and that about wraps it up for my evening commitments for the year. Wow, I can actually be home to cook dinner on Thursday…
Did you have a good Monday?
PS — please text REDCROSS to 90999 to give $10 to American Red Cross Disaster Relief for the people in Oklahoma. Do this today and I'll join you.
FO