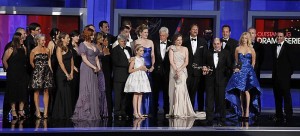 For the third straight year, my favorite TV show (and one of exactly two that I watch with any regularity at all) won the Emmy for Outstanding Drama Series. Not surprising. What was surprising was the baffling ridiculousness of January Jones's dress. Yipes.
Christina Hendricks (on the left, in the gorgeous taupe gown) was lovely, as usual. I for one recognize her acting talent as well as the fact that she is a great physical role model for "regular" women. No worries, Chrissy.
My other favorite series (HBO's True Blood) was nominated but didn't win. It's a rather goofy show, but cool that a saga about vampires and werewolves and other silly creatures has captured the entertainment world's attention. I also like nominee Breaking Bad, but I never get to watch it for some reason. I've settled for the cheapskate recap vids on AMC's site.
Most deserving was Al Pacino, for his role as Jack Kevorkian. It was by far his creepiest  (I've seen every Pacino movie since Panic in Needle Park and Serpico), and right up there with Michael Corleone on the believability scale. Home run.
Then there's Glee. We won't talk about that this morning — I'm in a hurry.
RF, still looking for the happy in Mondays
Image credit: Reuters