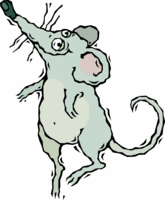 …cue the Grieg.
Last night's rehearsal wasn't all that bad. I told a friend in email this morning that at least it didn't make me want to jump off the nearest bridge. Could the morning be breaking?
I go through this every year. There's a definite order of things. First, teach the music. That's fun. The singers are learning new stuff, and they immediately decide what they really dig, and which songs are not their favorites — but the learning is kind of fun. You know, like a discovery thing.
Then choreography rehearsals start, and some of the happy-happy falls away — especially for the kids who are not natural dancers (and they outnumber those who are). Frustration takes over almost immediately; they can't do a fa-lap, the time step is out of the question, they can't get the kicks high enough. I keep telling them that it's a lot to learn at one time, and that they will get it eventually. It's a long wait.
Next step: putting the stuff onstage with the singing and choreo. Train wreck. Lots of hair-pulling, and a small number of frustrated comments from the piano. All given in love, of course.
Penultimate phase: things actually look like they might someday, possibly, with an insane amount of luck, come together. That's where we are right now, 24 days till opening.
We might make it.
FO