Yep – Jakey turned one, and boy did he party like a mad man. Mommy made him his own cake, and she'd made sure that he had never eaten cake before, so it was truly a first-time experience. Grammie Fink took some good photos. Behold….
First bite – not quite sure
Do I like this?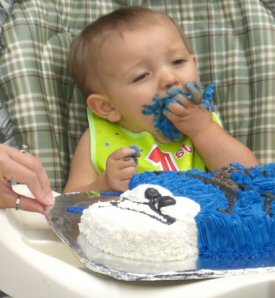 Yep. I like this.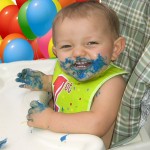 I reeeeally like this. (Clicky)
All cleaned up and ready for presentses
It was great fun. Wish I hadn't been fighting this stupid cold or sinus infection or whatever it is. But hey, at least the Browns won. Imagine that!
FO