Naw, not that kind of bond issue. We don't pass those crazy things where I teach. They're defeated by 70%. We don't need no money for no schools…(hey, I'm not bitter).
Rather, I'm talking about Bond. James Bond.
I read a review for Quantum of Solace last night, and I think I want to see it. Then I got to thinking about all the Bond films I've seen, and all the Bond actors. I feel I must rate them.
All-Time #1 – Sean Connery
He's the original (well, he's technically the second) Bond, and in my mind, the best. Handsome and debonair, even in his seventies.
==========
#2 – Roger Moore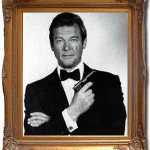 Loved his deadpan deliveries and bad-boy grin. Cutie-pie.
==========
#3 – Pierce Brosnan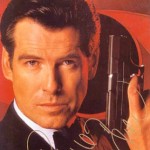 Maybe it's because of my fond memories of his Remington Steele days, but he rates #3 for pure handsome, and that English, boyish je ne sais quoi.
==========
#4 – Daniel Craig
Meh. (Sorry, Jason!)
==========
#5 – George Lazenby
Haven't seen On Her Majesty's Secret Service in about 30 years.
==========
#6 – Timothy Dalton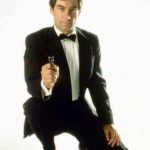 Never did anything for me. Kinda evil looking, actually.
So how do you rate the Bond Boys? (And it doesn't have to be for cuteness…it can be for acting ability, toughness, or overall similarity to Ian Fleming's original conception.)
Fink out.
Photo credits: imdb.com, bondmovies.com