However, the stomach flu is definitely *not* cool. Ugh. It's been a long night. But hey, the show must go on.
Last night, before the nausea and other horrible things slammed me to the mat, I made a wonderful discovery: hulu.com has classic TV shows, in their entirety. How cool is that?
I found every episode of The Time Tunnel, a series I watched faithfully when I was in the third grade or so (alas, the show only lasted one season).
Its premise centered around two scientists who run a government-funded laboratory beneath the Arizona desert, dedicated to the exploration of time travel. In the first episode, a senator comes to check on the facility to decide whether or not to pull its funding, because the scientists and military personnel stationed at the huge, futuristic lab have only sent animals into the tunnel — never to see them again.
Seven billion dollars in the hole, and in danger of being shut down, one of the scientists (Dr. Tony Newman, played by dreamy James Darren) decides to send himself through the tunnel to prove it can work on humans, and thereby save the project.
Then it all goes wrong.
Turns out, Tony is sent back in time all right, and he even arrives safely on the deck of a cruise ship. Only problem: the ship's name is Titanic, and it's the 14th of April, 1912. So the other scientist, for some inexplicable reason, gets dressed up in period clothing and tries to go after him to save him. Now they're both trapped and can't get back.
I thought it was tremendously cool back then, though. I loved all of Irwin Allen's shows (Lost in Space, Land of the Giants, Voyage to the Bottom of the Sea). They scared me, but had cute boys.
Anyway, check out these stills I pulled from the first episode: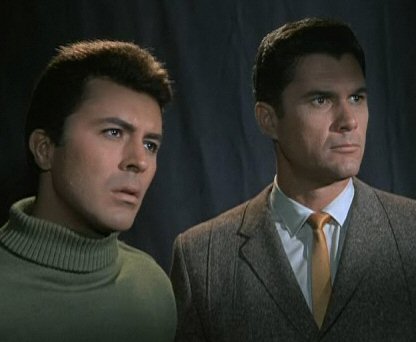 OK, back to the sofa with me. But there's one good thing — I thought today was Saturday. I have more weekend left to get over this thing before school starts Monday.
Fink out.
Stills credit: 20th Century Fox Corp.