The dramedy and the romantic drama-fantasy.
Here are two of my fave TV shows from the 80s, when I was a young mom and TV time at night was a restful reward after a crazy day with two energetic boys.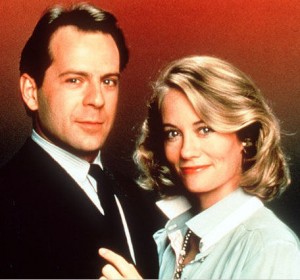 For the younger Finkites: Moonlighting was Bruce Willis's launch to fame. He was pretty much an unknown until he landed the part of David Addison, the wise-cracking but cute-as-a-puppy detective working for Maddie Hayes (played by 60s fashion model Cybill Shepherd). The seriousness of solving crimes was always interspersed with silliness, like this, for instance, and the romantic tension between Shepherd and Willis was always stretching, stretching, stretching…and once they declared their love (as often happens in real life), things were just weird from then on.
Once Shepherd had kids and Willis made the first Die Hard movie, the series was pretty much over. And they chose the most bizarro way of ending it, too: the crew just came in and started dismantling the set.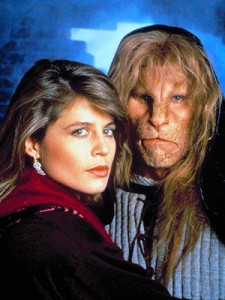 Beauty and the Beast falls into the category of Serious Suspension of Disbelief. But I loved it anyway, and refused to miss it. An impossible romance combined with detective plots made this show totally irresistible for me. Catherine (Linda Hamilton) and Vincent (Ron Perlman) were the star-crossed, tragic soulmates. Vincent always appeared at the crucial moment, either to save Catherine or to comfort her. Again with the unresolved tension. I was so sad when it was canceled after only three seasons. Apparently, so were a lot of other people.
Time was (strangely, in my lifetime), when a show was canceled, it disappeared for years until syndication caught up with it. Now, shows go immediately to disc/online, so there's no waiting. These two programs are now available on DVD in their entirety.
*sigh*Reminiscing about a simpler time…