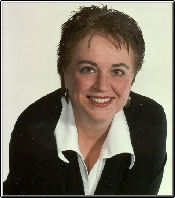 Yay! We love giving feasts at the Fink house. Today is BFF Kay's. Mavis and I spent some time yesterday and last night getting ready for it.
For those of you who don't know, my best friend for around 18 years now is this lady. Int she the cutest? Kay has had a wonderful career as an opera singer, Ohio Arts Council Artist-in-Residence, and studio teacher (a bigger knock-out voice you're unlikely to find — g/f can shake the rafters). She's done everything from Puccini to oratorio to cabaret. I even got her to monkey around with some jazz once. I'm still working on the rock and roll…
Anyway, not only is she an amazing singer, she's a wonderful watercolor artist, writer, and all-around world traveler. She and her husband, Bob (remember my serenade by the accordion player?) live half the year in Slovenija and half here in Buckeye nutville.
Best of all, she's just good peeple. Fortunately for me, she chose to spend the last two decades wasting time on the Fink. She's like family, yes Mavis?
Anyway, it's her birthday feast today — and she won't even mind that we're fixing a meat dish for all the carnivores who don't share her vegetarian lifestyle, but heart her all the same.
HB BFF K!
FO…gotta think about starting the macaroni and cheese