I'm not getting too old for this I'm not getting too old for this I'm not getting too old for this I'm not g…
What a great weekend, though, eh? Once again, I am reminded why I do this.
I still don't know how they all pull it off. You really have to see it actually happening to get the complete gist. I swiped some photos from the Facebook album of RtB fiend Greg, who is also my tech director. Hope he doesn't mind. Those of you on his friend list saw his step-by-step photo album of how the show came together — great idea, that. I need to get with that program. Anyway, as you will see, we have a very limited, small performance space. It's a cafeteria with a tiny stage that has no dressing facilities, no wingspace (actors have about 5 feet in which to wait for entrances), no scene shop, no catwalk, no hardwired sound reinforcement system and no storage. Yet, the cast, crew and tech people consistently do outstanding work. I couldn't be more proud. Here are some clicky pictures (thanks again, Greggy) of how things look:
~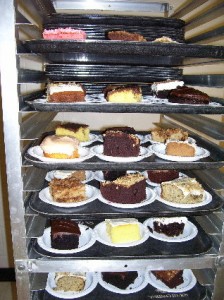 ~
~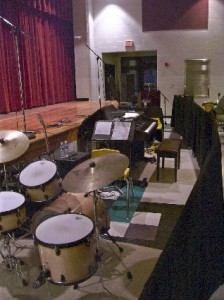 ~
~
~
~
Again, you'd just have to see how they do it to believe it. I always get a kick out of when my students go backstage at a "real" theater at a neighboring school and come back talking about how enormous everything was. Admittedly, there are also times when I wish that mo money (lots mo, like 6 figures mo) could be thrown at our little space to improve it. But until that time, we will keep using every square inch of the real estate we have.
All right then…*rubbing paws together*…who's up for choir tour on Tuesday???
Fink out (and feeling a bit aged).