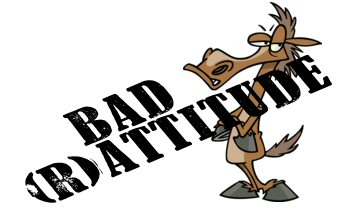 Well, I got me one today. Not sure why. When all else fails, try stream-of-consciousness:
I'm tired. And crabby, although I hide it so well, you'd never know it.
This class will n.e.v.e.r. be over with. Tomorrow has been canceled; it will never get here.
I hate everyone. Except you.
It is 6:04 a.m. and I'm not showered and dressed. Yet, I care not.
If I have bad rehearsals today, people could suffer.
If I have a bad rehearsal tomorrow afternoon, people will suffer.
I have to skip the football game tonight to come home and work on the Power Point presentation that's due tomorrow — you know, the day what won't ever get here — with narration, of course, since it's the most ridiculous requirement ever, and wastes the most time, which is why it was assigned.
I miss Kay. And she had better write back or I'm getting on a plane and…. Nevermind.

**breathe**
I know there are many bright sides to my life today. I have a wonderful family, and friends who love me. I have cute blond hair and tiny little dainty feet. I get to say, "Shut up, Stein" anytime I want. BoomR is sending me a present, packed in Dunkin' Donuts coffee. (I can't wait; I hope it's a pony.) So cheer me up. It's Finkday, fuh cryin' out loud. I should be happy. Blah.