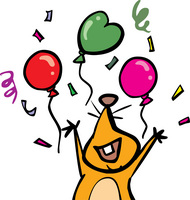 Vendredi gras! Let's celebrate.
A good weekend coming up here. New babies in the future, dinner with friends tonight, grandsons tomorrow night, and watching #1 Son play drums in a band Sunday night. All good stuff. Weather should be fantastic all weekend, too, although I'll be awfully glad for air conditioning.
Three weeks till departure for the New England Odyssey. If I'd ever do a "happy dance" (which I wouldn't), I'd insert it here.
Y'know…when I wanted LeBron James to win clutch games, it didn't happen. Now that I want him to lose, he scores 45 points in a single game. Seriously, he needs to retire. I'm sick of being a spoilsport.  That's OK, though. I'll still celebrate today.
After hours and hours of customization, I think I have the new digs here at RtB looking how I want. I hope you like it, fiends — or at least that you'll get used to it after awhile. I think we're good like this for a couple more years.
What's up for you this weekend? I hope the weather's nice where you are, and that you don't have to go to work.