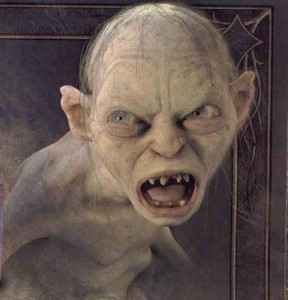 Since yesterday? Several flavors.
Yesterday morning was not so good, as you might have noticed. Frustration — mixed with annoyance clouded by apprehension complicated by restless feelings of inaction — dug in its claws, and no amount of espresso or positive self talk seemed to ameliorate things. It mades us unhappy. And we forgots the taste of bread, the sound of trees, the softness of the wind…
OK. Not quite that Smeagoliciously dramatic.
But you get the idea. I was a big ol' slab of negative, and I don't like that. Fortunately, yesterday proved to be quite productive and relaxing: a combination I rarely score on the same day. And with my extra, unexpected snow day today, I plan to make the best of this particular 24 hours.
Remy is s-l-o-w-l-y warming up to the Thriller. I think that once I clear out and go back to school, the two of them will have some much-needed bonding time. Since we brought him home and the nasty weather started, I don't think I've been out of the house once. Pup has all but abandoned running to hide underneath the living room coffee table; now we just need to get him to not run and hide underneath my desk. Again, I think not having me actually sitting at the desk will help.
The work on the WordPress theme is finally done, thanks to my buddy Sunny. Some minor changes in font, font size/readability and comments will hopefully make RtB more visitor-friendly. You can also now click on the header image to return to the homepage, and all comment counts are "clicky," so you no longer have to click on a post title in order to see or post replies. These were all code issues that would have taken me hours and hours to search out and fix on my own, and if you are at all familiar with the WordPress support community, you know that a person could get lost for weeks in the forums. So yay, another reason to show some teeth this morning.
Mavis is scheduled for some surgery this afternoon, which is another reason I'm glad to have the day off. I can go visit afterwards, and hopefully take her home if they spring her same-day. Happy, um…whatever day it is.
Fink (like her Australian Shepherd, needing a job to do)