No, not that MJ. The other one. The one who lives at my house. The one who lives.
Lincoln, Omaha, Council Bluffs, Des Moines, Iowa City, Davenport…then the long, long trek of nothin before getting to Joliet and putting my feet up.
Or maybe not "nothin" after all…
So I stopped at two cool places on this trip. First, Iowa 80: the Largest Truck Stop in the World — and they ain't kidding. This place is a truck driver's (and tourist's) dream. I hope #1 Son can get out there on one of his runs to see it up close.
~
~
~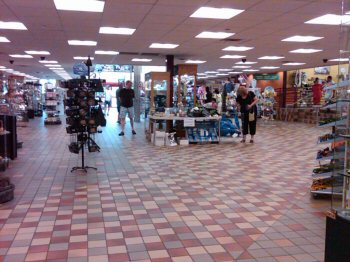 ~
They also have a full-service laundry, a movie theater, a barber shop, and a dentist's office. No really, a dentist's office.
OK, the second cool place.
The Thriller was raised in the microscopic Illinois town of Buda (pronounced "byoo-duh," as opposed to, you know, this). Yesterday, while I drove and talked on the phone with him, he made the comment that he probably wouldn't even recognize the place anymore, having not been there in decades. He's always talked about taking me there to see his boyhood home and school, assuring me that the entire tour would take roughly five minutes.
(I underlined Kewanee…he was hatched there. Another Illini, 'sides me, Mavis & PK.)
Anyway, I decided to take a small detour off I-80 and surprise him with a few photos. My favorite was this one, of the high school from which he graduated in 1969:
Nice. When he received the pictures in his email, he was speechless! (And lemmetellya, that don't happen often…he'll agree with me there, too.)
All right, enough fun for one morning. I think I've timed it so I can hit the shower, get some coffee, and get on the road in time to miss the worst of the Chicago rush hour traffic. What am I saying…it's always rush hour in Chicago traffic. Oh well. As the Thriller is wont to say: Buckle yer chin straps; it's gonna be a bumpy ride.
Fink over and out (of Joliet).