…more than I can ever pay. (Special prize from the Secret Vault goes to the first person who can tell me what show that ridiculous song is from.)
Actually, the picture below is of Illinois, just shy of the Iowa border. But I don't know any cool rhymey songs about Illinois. And by the by, that's Ill-i-noy. Not Ella Noise. I get a little snarky about that particular Schmenglish mishap, seeing as how that is the state in which I was hatched all those many moons ago. I mean, what if I said, "Oh-hee-oh," or "Grennitch" instead of "Green-witch."  I could snark. I could. But I won't. (But I could.)
Anyway. No coffee yet, feel me?
I took this while zipping across I-80 west, singing along with the Jackson 5, near Davenport. Dassum flat land, fiends.
I worked on some session prep and channel-flipped for awhile last night. It was actually fun, and tres therapeutic.
Since I get up at the butt crack of dawn anyway, it won't surprise you to read that I am wakey-wakey at 4 a.m. local time. So I inspected the disinfecting pod in my room…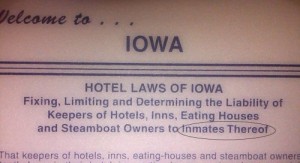 …and perused my responsibilities as a hotel, inn, eating house and/or steamboat inmate in the state of Iowa.
And Starbucks isn't open yet, either. It's going to be a long wait.
So this morning, it's off to Lincoln. Should be an easy drive. Looking forward to hanging with the fellow choir geeks tonight.
Are you behaving this weekend? Show the Fink some love. I can't believe it's only been eight days since the 4th of July. It seems like months. Has this week gone slowly for you too?
FO