So this is the view from my dorm room window: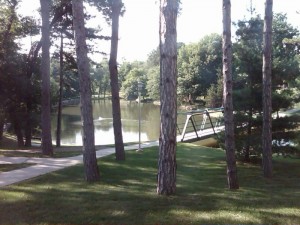 Tough, eh? Staying on campus at a small college in the middle of miles and miles of corn and bean fields is way more pleasant than I originally expected. Admittedly, it's been awhile since I've been in a dorm. But these are really nice by any standards — air conditioned, even! Good thing too, since it was 91 degrees here yesterday afternoon.
Only bad thing: as is customary when students walk on carpet in bare feet for months at a time, the place smells a little like, well…like people walked on the carpet in bare, stinky feet. Not pleasant. So I made a quick trip to Wally and bought some Febreze. Covers it up just fine. My guess is the carpet shampooing hasn't happened yet.
So here's the layout, especially for the benefit of those of us for whom "suites" were not an option in college, heh: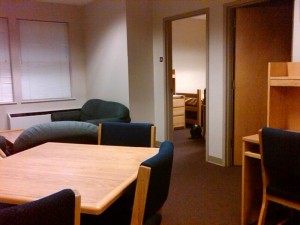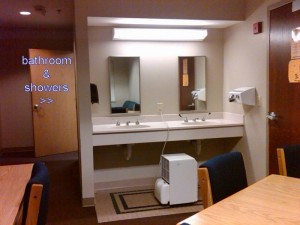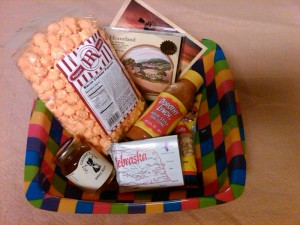 So far, I'm by myself in this little paradise. Another clinician arrives today to occupy one of the other bedrooms. I guess that's one of the perks: suite mates, but no roommates. That's a good thing all around.
All right. Enough slide show fun. Time for showers, coffee, and final prep for today's session (12:30 Eastern, in case you wanted to know).
The Thriller calls this trip my "adventure." So far, it's been a great one! I needed this. More photos & stuff tomorrow. Have a great Monday.
Fink out (on the lone prairie).