So, Iowa was basically just a stopover because Lake Winnebago to South Dakota would have been a *bit* of a stretch on the old sit bones.
Night before last, I caught a candid of the Thriller and his brother John, enjoying the evening from the best seat in the house (in the back yard, facing the lake).
It's funny, hearing them talk, how siblings just pick up where they left off. From planets and stars to politics to conspiracy theories, they fell into endless yammering almost immediately. It was fun to listen to and watch.
John doesn't do email, and neither brother is any good at phone contact, so they basically see and talk once a year, when we all get together at Mom's. But to hear them chatter on and on, you wouldn't know it.
Boys are silly.

The picture of the day, however, is courtesy of Wautoma, Wisconsin, where we had to stop and wait for some very special pedestrians to cross the road: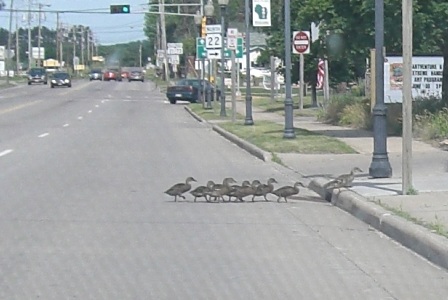 So it's off to Mount Rushmore today, and we are excited to reach the forest and the lodge, where we'll hole up for two days. Eight hours of driving today and we'll be ready for some R & R. Good thing is that I have no idea what day it is, heh. The sign of a relaxing vacation.
FO