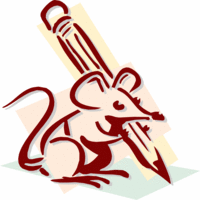 Get items listed so I can put them in a list.
*rubbing paws together*
You know, I think I have my problem sorted. It's not the making of the list, or even the execution of the list. It's the self discipline required to actually sit down and make the list.
Listphobia: the fear of committing to a written-down task. There you have it. Seriously though, it's 5:50 a.m. At 6:00, I have to go upstairs and do the shower/get ready thing. That leaves me ten minutes to make a list for today. Ready, steady…