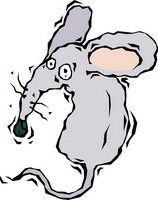 Stress, anyone?
Seems the theater gods are having a bit of fun at the Fink's expense.
We open five weeks from tomorrow, right? OK. We're two weeks behind schedule because of my irritating, infuriating illness the week after the Super Bowl, and also because of several snow days in a row. That's all right, I suppose, because I do always try to build an "emergency" week into the rehearsal schedule.
But this is stretching the limits of funny.
Two weeks ago: one cast member out with mono. Yesterday: another cast member's mother calls — he has mono as well. Out for two weeks. I was told at rehearsal last night that another cast member's girlfriend is exhibiting symptoms and has to be tested. I don't want to complicate things with the extremely dangerous power of suggestion, so I'm keeping basically quiet about it at school.
This morning, in an effort to make sense of it and to prepare myself for what could lie ahead (and since I've been up since 3:17 a.m.), I did some light research on mononucleosis:
The contagion is not airborne, but rather transferred by mouth. However, that can be tricky. Aside from the kissing issue, you can also have problems if you've taken a drink after someone, or shared a cookie, or even touched a door knob after the infected person coughed into his hand and used the door before you.
People can have symptoms or not — which means you can be a carrier of the virus (called Epstein-Barr) and not know it. According to the CDC information on it, a true school-wide outbreak would be rare — although I wonder why they'd say this. Seems counter-intuitive to me. Am I missing something?
The jury is apparently out on the issue of exactly how long the contagious period lasts. Some say days; others say weeks and months. Therein lies the problem…
Years ago, Mavis was out of school for a month with it. It means business, and you can't get back to your life too soon without having a relapse, which is what is happening with the boy who contracted it first. I wonder how my friend Bando is doing with her show and sickness. B, if you're reading this — how goes Godspell? Any problems outside the "normal" range? (Heh heh.)
Regardless, this thing is a deal breaker; a potential production killer.
Hey, I know — I should buy a bunch of these. Pass 'em out in choir.
Fink out (gee, I'm not feeling like myself…I'm really exhausted…my throat hurts…)
(kidding)