Hello everyone, and Merry Christmas, Happy Hanukkah and Blessed Kwanzaa to all. And for those who don't celebrate any holiday, I hope it's a beautiful Thursday wherever you are.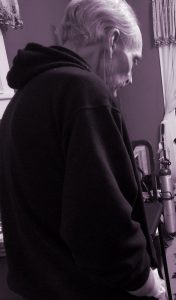 I will tell you today about our new normal, which started basically over the last five days. The Thriller is on some heavy duty medications, which, combined with the disease progressing through his brain, have affected some major changes in his cognitive functions. He doesn't speak in complete sentences anymore, and what he does say often does not make sense. He struggles to finish a thought.
He spends most of his days alternating between snoozing and sitting up in his bed or office chair, attempting to make sense of the thoughts that are obviously crowding inside his head, but for which there seems to be no descriptive words. He's lost interest in his video games, the newspaper, and in most TV. Leaving the house stresses him out to no end. He fights against the rest the morphine wants to give him, which leads him down the dark path of sleep deprivation. He fixates on imagined problems that never existed, or real issues that have been solved already.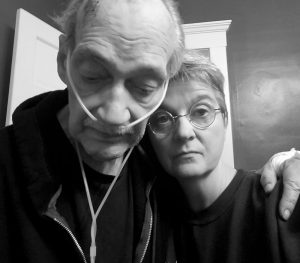 We can no longer leave him alone in the house for any length of time at all, as he took a pretty serious fall trying to maneuver around the bathroom the other day. Gave himself a super-sized egg on his temple, a gash on his forehead, and tore up the skin on his arms. The bathroom floor looked like a crime scene (you know how head wounds bleed). After that, no more sleeping upstairs with a call button; I'm back on the couch in the living room.
I desperately want him to be able to tell me what he's thinking. I can see the frustration on his face and in his body language when he knows what he wants to say, but can't articulate it. What comes out is jumbled fragments that I can't fully understand. We're both pretty much exhausted from the constant interrupted sleep, although he did nap for five straight hours last night — huzzah!
In spite of all this sad news…once in a while, Mavis and I will see the old Thriller coming through. A sly smile when he's giving one of us a hard time, or eye contact and a grin when he "gets" an old private joke between the two of us. I believe the light is definitely still on to a degree. The other day, when I wanted to give him a diversion, I grabbed the TV widget and wondered out loud what channel his favorite news program was on, and I heard a whisper from behind me: "202."

The old man still has some of it.
At all other times, he's in a place I can't go, speaking a language I can't learn. I guess I'm OK with that, as every time I tell him I love him, he responds in kind. He's always up for a long hug, and rarely is anything but agreeable (except when it comes to lying down for a nap). We continue to look for the joy in each day, even though it's a new kind of joy. A quieter one.
Much love,
#teamthriller