Just gotta get through Monday, and I'm home free.
So much to tell you this morning. First, the concert! My little fiends did very well last night. Here are some shots a fellow teacher took of some krazy kwire kids…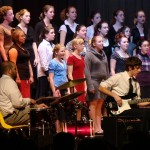 More later — 6:54 and out the door.
Fink out.
PS – I watched Sweeney Todd on my new TV last night. I must admit…it was amazing.