At least I think I'm happy it's Friday. Kind of wish it was *last* Friday so I'd have another week of rehearsal, but…
I'll apologize again today for seeming to ignore emails — as soon as the insanity dies down, your inbox will once again fill up with Finkness; so much so, that you will want to get rid of me.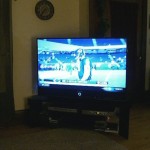 OK, so. The TV doesn't look bad at all. Here's my effort to take a photo of it in action. Somehow I don't think my little Casio 6MP Exilim (as much as I love it) was up to the task of capturing the picture in all its HD glory in a dark room, but here it is. I thought it would take up much more space width-wise, but as you see, it appears to be quite manageable.
I actually like it. I might learn to love it, even.
All right, enough about the television already. That's done. In other news:
Do you have all your shopping finished?
Tonight, I shall have dinner with a friend, then go to the basketball game. (First home game – go Trojans) I think I need a night to not think about choral music and logistics.
Picture this nightmare: Decades of irresponsible, gluttonous management perpetrated by self-appointed royalty of multi-billion dollar corporations (and labor unions) spirals out of control, leaving the country on the brink of economic collapse. Then they raise the white flag and beg the government to make it all go away, but Congress can't agree on how it should be done. So the freefall continues, dragging Wall Street, the nation's employment hopes, and general morale down with it. Imagine such a horror happening in America.

I didn't get any Christmas cards sent this year. *sigh*
Starbucks v. McDonalds – never thought I'd see the day. Although I must say that the last cup of coffee I had a McD's was pretty darn good.
Is there any state more screwed up than Illinois?
And now I'm out of reading time. Have a most excellent Friday.
FO