It's been a while since I've seen Les Mis on stage. Several years, in fact. (2006?) Still, the story in my mind has strong legs; I know how I feel about it, and I'm familiar and comfortable with the emotions it evokes, and it's been pretty reliable for me every time I've seen it.
So it wasn't without some reservations that I went to see the film yesterday with my good pal Tom Hanks, whose cinematic take I covet at all times on all movies. Don't get me wrong — I looked forward to it with great excitement, and I must say, it delivered on several fronts. Other fronts…not so much, and I remain rather surprised.
Let's address this issue at the get-go. I've read countless reviews and general opinions on Facebook with regard to Russell Crowe's lack of vocal prowess and "unprofessional" sound. I think they're all missing the point. Sometimes, you just need to forget your foofoo preconceived notions about Javert having a booming, operatic baritone. Yes, yes — that's how he is portrayed in the stage version; I've yet to see a production that didn't hold to this model, and I've seen LM on Broadway several times. Say what you will, but the man never sang a single note out of tune, and his raw, untrained delivery only intensified (in my mind, anyway) his shortcomings and insecurities as a lonely, bitter man masquerading as a law-enforcement thug. I thought it was fine, risky, believable casting.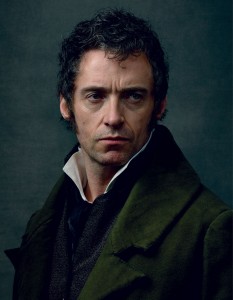 Of course, this is not to say that I don't take issue with any of the singing. Surprisingly, my biggest annoyance was with Hugh Jackman himself. While his role as Valjean was superbly acted (I was absolutely transfixed during all of his scenes), his 5-mile-wide vibrato and my-goodness-that's-harsh interpretation of the beautiful "Bring Him Home" was really off-putting. Instead of hovering in an artfully controlled falsetto in the upper range all the way to the bridge, he sang the entire song in a "transcending tone" — half falsetto, half full voice. Not a gentle note in the bunch: disappointing for the second most heart-wrenching song of the show (first being "On My Own"). Yet, I must admit — his flawless character more than balanced out the occasional "what the HECK note is he singing?" moment.
The female singing was delightful. Anne Hathaway as the sad, hauntingly beautiful Fantine, tried juuust a bit too hard sometimes, with her actual delivery upstaging the melody and lyrics. I fought the urge to say, "Somebody please get this girl a Kleenex — for her NOSE." (Not near as intense as Jane Fonda's scene in Klute, mind, but plenty realistic.) Her acting, however, was a machete through the chest. Amanda Seyfried's light, almost straight-tone soprano was perfect for the lovely Cosette, and Samantha Barks, whom I'd never heard of, broke my heart as the tragic Eponine.
The children (young Cosette and the waif boy, Gavroche) were superior.
A real high point for me was listening to the men on the barricades. What strength! What tenors, yo! And, occasional shaky Whitney-type jaw vibrato aside, the always-dreamy Eddie Redmayne was perfect as Cosette's love interest, Marius. I didn't know he had such a striking, powerful tenor voice. Nice.
Sacha Baron Cohen and Helena Bonham Carter? Meh. Same old same old, and Tom and I agreed that for a moment there, the film almost took a Tim Burton detour. Not nearly as playful as the Thenardiers of Broadway, but they didn't have to be. They were funny in places.
I wasn't sure how I'd feel about the live recording (the singers were recorded on film actually singing their songs, as opposed to lip-synching them with a track, a la Sweeney Todd), but it was impressive, to be certain. Make no mistake: it is difficult to sing this music, and the fact that each character pulled it off in a live setting — and the movie finished production in under nine years — is astonishing.
Bottom line: I was amazed, delighted, overwhelmed with sadness, and completely entertained. Not all of the music in this show is easy to listen to; one has to work to love it. But Tom Hooper's vision played well, in my opinion, and made most of the scenes perfectly palatable, even and especially for audience members unaccustomed to watching opera. It's an important film based on classic literature, and you should see it if you haven't already. Or maybe see it again, which I might.
On the Rat-O-Meter scale of five cheeses, I give Les Misérables: