Random Neuron Firings
My high school football team needs a win this Friday. A shot of morale always does a body good. The coach is a stand-up guy, and the kids work hard. Go Trojans!
=========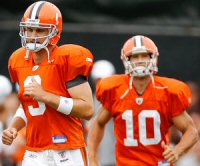 Eric Mangini is still monkeying around and not announcing his choice for quarterback for the opening game, much to the distraction of the players, and the eternal annoyance of the fans.
Ya know…I wonder. I read somewhere that his indecision makes it appear as if he doesn't like either guy, which can't do a whole lot for morale in the locker room or on the field or in the front office. What's the holdup? Why can't you pick one? Everyone with a brain knows Quinn has less streakiness and more athleticism; pick him, fuh cripesake. Quit foolin around. Everyone thinks you're a chump who actually believes he's fooling the Vikings.
=========
I hate the St****rs. I mean, I really do. I hate Ben Roehtheeslehbklejhgwlehtkbeener, and I don't even know him. He could be the Lord come to town on a pony and I wouldn't care. As long as he wears the absolute undisputed butt-ugliest uniform ever foisted upon a team in the history of pro sports, I hate him.
=========
Speaking of ugly uniforms — Oregon wins the Olympic gold medal.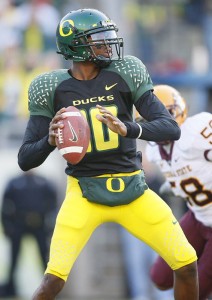 =========
Peyton Manning is a really good actor. Seriously.
=========
Peyton Manning's brother is a really rich man. Seriously.
=========
PS – The Slap Chop really works. Seriously.
PPS – HAPPY BIRTHDAY (a day late) to RtB fiends Bando and Stein! I remember my twenties. Um, wait…no I don't. (Love to you both!)
FO
Photo credits: Getty Images; Sports Illustrated