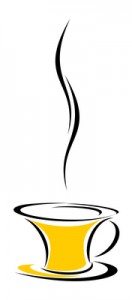 A Tuesday when I didn't hit the snooze bar, that is. So, more time for coffee, and for talking to you, my awesome fiends.
At least it's no longer Monday. What a long, long day. But good. Check this out:
The kids in this little show we're putting on are not only performers; they're varsity athletes, honor students, band members, FFA members. They're kids with cars (and part time jobs to help pay for them), families and many other responsibilities. And somehow, they make it all work and are still smiling at 8:30 p.m. when they — without being asked — stack up the chairs in my room after rehearsal and go home.
And while they sometimes (OK, regularly) musically frustrate me to the point of wanting to wing a puppy at a speeding train, I must tell you that they renew my faith in the youth of America, daily. I don't know all the reasons why they willingly add these brutal, late-night rehearsals to their already-busy lives, but I sure am glad they do it.
OK, enough sap about my students. They'll probably completely infuriate me in rehearsals today, and I'll regret ever bringing this up.
Has anyone tried this? I'm wondering if it belongs in the "if it looks too good to be true" bin. Someone brought a big bag of potato chips to rehearsal last night, and offered me some before we started. I promptly declined, of course, but…I was mad. Kind of mad, yeah. I wanted some crunchy-salty. I wonder if this recipe would help. I should try it; it doesn't look difficult at all. But I think I know the basics: Kale Ain't Potatoes. Still, maybe I'll give it a go and let you know.
All right. Enough yammering. Time to get ready and bounce. Have some fun today, fiends — thassanorder.