The fact that both the Indians and the Browns lost yesterday; one long season begins as the other one will most likely end with no playoffs
That 4:30 a.m. comes way too early, and is the only reason I had to DVR three shows last night (but oh my, Breaking Bad is getting intense, gearing up for the last three episodes ever)
My disgust at having to take a professional day on Wednesday to sit for 7 hours and write SLOs (Student Learning Objectives) in the high school library, while my choirs sit across the parking lot, not rehearsing
Staying at school till 8:30 every night this week except Friday (I love my rehearsal schedule, I love my rehearsal schedule, I love my rehe)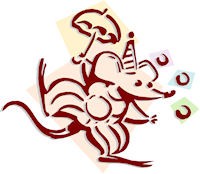 But, but, big fat but…
On Friday, BFF Kay comes to school to set up the costume shop (yes, she's our costumer this year, which makes Stoney and me five kinds of happy)
I'm hoping to have another week of good rehearsals, like last week — we just might do this show yet
All my orchestra people are on for the pit rehearsal in October
This Sunday, the family will be at my house to celebrate some very special company coming to visit from England — I couldn't be more excited
So, what's to get over? This week won't be so bad. Maybe it'll be one of those weeks that fly by because you're so busy. Hmm? What say? Before I know it, it'll be Friday night, and I'll be on the couch, buzzing through Boardwalk Empire, The Newsroom and Ray Donovan.
If I can stay awake.

Have a good Monday, everybunny.