Sometimes I am amazed by how it all works, you know? Today, I installed a new version of the WordPress software I use to write my blog posts. The changelog for the update was gi-normous;  many cool features were added.
In an effort to be completely transparent, Rockin' the Bourgeoisie will lift up her skirt today and show her knees. Or guts, as the case may be.  I've used Blogger software before, and once I had a LiveJournal site, but I don't have any experience with the other blogging packages offered by TypePad, Moveable Type or others. WordPress does it for me, mostly because it's soooper easy. Here's a screen shot of today's post in progress: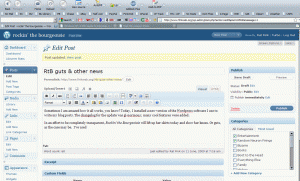 As you can see, the user interface is clean and simple. Me likey. As geeky as I like to think I am sometimes, it's clear by the screen shot that *anyone* — even those who don't own cell phones — can navigate blog software.
I love downloading groovy things. Just a couple of days ago, I installed a feature on my Storm called "Picture Dial."  For the numbers you call/text the most, touch the picture and you're connected. How cool is that?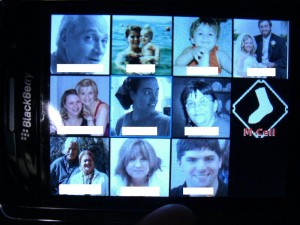 Right. In other news…
MAAAAAAAAAAD MENNNNNNNNN
starts on 16 August, just in time for Stoney's birthday. What a gift! And RtB superfriend Bando is laid up right now, after some minor surgery…I trust that this news will make her jump out the bed and do the watusi. I don't remember being this excited for a season premiere since the days of Dallas and Knots Landing. Color me tres excite.

Oh, yeah.