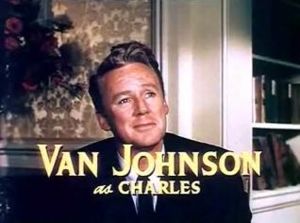 Sad: 1940s and 50s movie star Van Johnson died this month at 92 years old.
Some sundry information:
— He and I share the same birthday.
— The first movie of his I saw was Brigadoon, with Gene Kelly. I was in elementary school, and I saw it on TV one weekend. I was entranced. (Of course, now I'm not so entranced. "Once in the highlands, the highlands of Scotland…" Arf.) He always had that good-natured, boy-next-door, a guy's-best-friend look. I loved it.
— There's a great photo feature on him at fanpix.net.
— His biggest career mistake: turning down the role of Elliott Ness in the new 1959 TV series, The Untouchables. The role went to Robert Stack instead, and was an instant hit, while Johnson's career waned in the 60s, and never really recovered.
Sadder: The story of his wife, Evie Wynn Johnson. Wow.
I read her 2004 obit in the London Independent. So little of it was happy, I had trouble getting through it. Here are the main bits:
She married Johnson in Juarez, Mexico, on the very day her divorce from actor (and best friend of Johnson) Keenan Wynn was final.
According to the Independent, Evie was an old woman when she finally broke her silence:
In 1999, when Evie was bitter and near poverty, she finally stated that MGM had persuaded her to marry Johnson, one of their top stars of the Forties. "They needed their 'big star' to be married to quell rumours about his sexual preferences," she said, "and unfortunately, I was 'It' – the only woman he would marry."
The story continues:
Although rumours quickly circulated that the MGM chief Louis B. Mayer had ordered the union [in an effort] to cover up potential scandal, the truth is cloudy. The writer Arthur Laurents states in his memoirs, 'A sunny male star caught performing in public urinals once too often was ordered by his studio to get married. His best friends, a young comedian and his wife, divorced so that he could marry the wife.'

According to Evie, 'For my money, Mayer was the worst of the lot, a dictator with the ethics and morals of a cockroach. Mayer decided that unless I married Van Johnson, he wouldn't renew Keenan's contract. I was young and stupid enough to let Mayer manipulate me. I divorced Keenan, married Johnson, and thus became another of L.B.'s little victims.'
Man. If all that's true…talk about sacrificing for your friends. Wynn's and Evie's son, actor and producer/director Ned Wynn, wrote a book about the whole torrid situation. I bought it off half.com, and will happily loan it out when I'm done. Say da woid.
Are you having a nice morning? I'm still on vacation. Well, except for the studying/choreographing part. There's that.
Ugh.
Fink out.