Sometimes I have to repeat stuff. Nobody listens to me (cep you guys).
I wish I could remember what I was reading yesterday morning. It was an interview with a military officer or university official or something…blah, I can't recall. Anyway, I was reading through his comments, and stopped dead when I read, "And all the sudden…"
After that, I lost interest. Does that make me a bad person? I honestly don't think I suffer from elitism here. I just mourn the death of our national grammatical conscience is all. Doesn't anyone care anymore? Does no one care that horrible grammar makes one sound stupid? *sNiFfLE*
Then I had a thought (sometimes I do that). There are movements and causes everywhere. We are a nation of causes. Save the Whales. Save the Donkeys. Save the Butterflies. Save Route 66 (yay!).  Save the Old Jail downtown. Save the Outer Mongolian Tree Spider. TWITTER, fuh cripesake (aka Save the Random, Inconsequential Thoughts).
Well then, how about: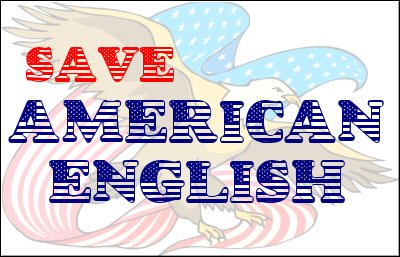 I mean, really. What defines a nation *first*? Its language; its primary form of communication. I know of no other language that is so routinely and indiscriminately mangled. Yes, yes, we're a melting pot — a tossed salad — e pluribus unum, blah, blah. No excuse, sorry. Especially for native speakers. And I'm not talking about slang, or accents and regional idiosyncrasies (for instance, in Milwaukee, where I went to elementary and middle school, a water fountain was called a "bubbler"). Those are fine, and in many cases, interesting and fun.
RtB fiends know what I mean. I won't go into it at 5:58 a.m. But listen. If we're going to champion this cause (notice I've dragged you all into this), we need a way better slogan. I love the "Bad Grammar Destroys Nations" thing — but I can't steal someone else's gray matter.
So come on. What can fit on the front of a t-shirt? Certainly not the above logo, which I slapped together in 45 seconds. I promise to come up with something better. I'm willing to throw money at this, swear.
Sixth grade choir had better be fabulous first thing this morning…
Fink, in a mood